Vonk B.V.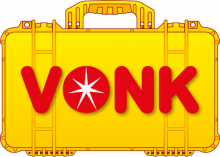 Family business Vonk B.V. has a wide range of plastic injection molded and rotation molded cases and boxes from Peli Products since 1989. We also supply (customized) aluminum boxes, flight cases and 19" racks. We can offer many customized solutions in and on our boxes and cases. And sturdy mobile plastic desks with drawers and robust mobile drawer cabinets made of plastic, both suitable for outdoor use.
We have a wide range of professional mobile lighting, such as flashlights, work lamps, head-helmet lamps, hand lamps and rod lamps. From explosion-proof to tactical, in many shapes and sizes, giving (professional) users a wide choice. Mobile LED light units in a plastic housing on mains power and on battery for up to 24 hours of light.
We also have temperature-controlled transport crates and boxes, without an energy source, for the multi-day transport of temperature-sensitive materials, from medicines to tissue, from vaccines to blood plasma.
And we supply Searchmarkers, brightly colored marker blocks for marking dangerous objects in the field. Lightweight and visible with many types of light.