Curamedical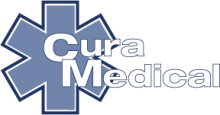 CuraMedical® produces and supplies a safe, high quality and wide range of sterile fully absorbable hemostatic products.
The CuraSpon® is a gelatin sponge with a fine porosity that has a beneficial effect on haemostasis.
The gelatin sponge activates the platelets the moment the blood comes into contact with the sponge. As a result, the platelets release a series of substances that stimulate fibrin formation, thereby acting as a catalyst for blood clotting.
CuraSpon® provides surgical hemostasis to control capillary, venous and minor arterial bleeding when ligation, surgical suturing or other conventional techniques are not possible or ineffective. The sponges can be easily removed if necessary after first aid, without permanent tissue damage.
The products are widely used in various small and large interventions/operations in hospitals, but can also be used excellently for acute first aid assistance.